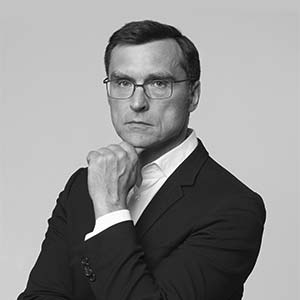 March 15, 2019
13:00 - 14:00
Free admission
Alexander Radoske – one of the founders of the architectural bureau Hollin + Radoske, working since 1997 in the German city of Frankfurt am Main, participant of BATIMAT RUSSIA 2019, in particular the Integrated Solutions exposition – will hold a master class for professionals and beginners in the field of design. Topic of the presentation: "Black Color in Public Interiors".
The German architect Alexander Radoske will reveal the potential of black color, its use not only in public, but also in private interiors. The black color itself is very strong, it can break any spaces, giving the interior depth and complexity. However, it is called the color of luxury. The speaker will tell how the customers are changing their attitude towards the black color and what you should remember when applying it in practice. The master class is a wonderful opportunity for the architect to share his knowledge and skills, and at the same time to charge and recharge with energy and inspiration.
The key clients of the architectural bureau are Europe's largest aviation concern Lufthansa and the famous German brand Hugo Boss. After winning the competition in 2000, Hollin + Radoske develops Star Alliance waiting rooms for the concern, as well as design of the Hon Circle Lounges brand for premium passengers. For Hugo Boss, the bureau won a competition to design the Boss Selection brand. For the current period, 30 showrooms and over 170 stores of the famous German brand were designed with the participation of Hollin + Radoske. The company successfully designs not only airports and public interiors, but also private properties.